Quick Search
Innovating Science® -

Small Group Learning: Properties of Aspirin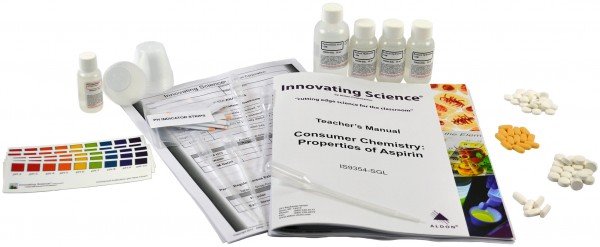 Product # IS9354-SGL
Aspirin is to this day the most widely used painkiller and largest selling non-prescription medicine in the world. Learn about the history of the development acetylsalicylic acid (aspirin) and test the performance of several different types of aspirin. Students will examine the solubility of aspirin in varying gastrointestinal environments, a comparison of active ingredients in regular and extra strength aspirin, and the differences between regular and buffered aspirin. All aspirin samples are included and the kit contains enough materials for 5 groups. Teacher's Manual and Student Study Guide copymasters are included.
Aligned to the Next Generation Science Standards (NGSS)* Disciplinary Core Ideas:
PS1.A; PS1.B
Performance Expectations:
MS-PS1-2; MS-PS1-3
Cross Cutting Concepts:
Patterns; Structure and Function
Engineering Practices:
Analyzing and Interpreting Data; Obtaining, Evaluating and Communicating Information
Kit Includes:
1 x 50mL Hydrochloric Acid, 1M Solution
3 x 30mL Sodium Hydroxide, 1M Solution
1 x 10mL Phenolphthalein, 1% in Ethanol
1 Pkg/18 Universal Indicator Strips
1 Pkg/5 Graduated Plastic Pipettes
15 Disposable Medicine Cups
1 Pkg/25 Aspirin, Regular
1 Pkg/20 Aspirin, Buffered
1 Pkg/15 Aspirin, Enteric-coated
1 Pkg/5 Aspirin, Extra Strength
DOT Info:
Small quantity exemption 173.4
THIS PACKAGE CONFORMS TO 49 CFR 173.4 for domestic highway or rail transport only
*"Next Generation Science Standards" is a registered trademark of Achieve. Neither Achieve nor the lead states and partners that developed the Next Generation Science Standards was involved in the production of, and does not endorse, this product.
WARNING: This product can expose you to chemicals including Acetyl Salicylic acid/Aspirin and Phenolphthalein/Methanol/Methyl isobutyl ketone, which are known to the State of California to cause cancer and reproductive harm. For more information go to http://www.P65Warnings.ca.gov.
Innovating Science® products are For Laboratory Use Only
---
Contact Aldon - Innovating Science®