Quick Search
Innovating Science® -

Forensic Science Lab Activities Complete Set of 12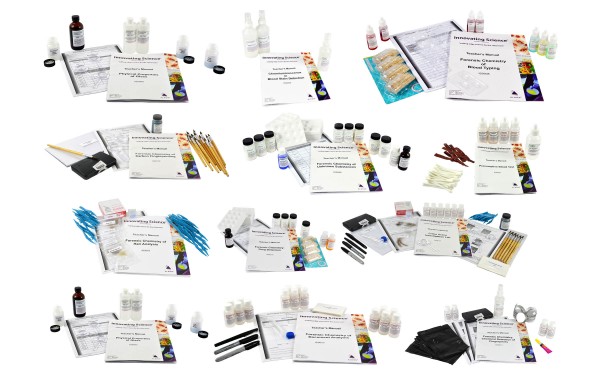 Product # IS9000
Part chemistry, part biology, and part physical science, forensics is the investigation of a crime using a full range of scientific knowledge or methods. Introduce your students to the investigation with several different types of possible evidence, such as; fingerprints, blood detection/blood typing, identification of unknown substances, gunshot residue, properties of glass, and more, by using this comprehensive set of twelve forensics lab activities.
Complete set includes:
IS9001 Gunshot Residue Presumptive Test Kit
IS9002 Presumptive Blood Test Kit
IS9003 Forensic Chemistry of Document Analysis Kit
IS9005 Physical Properties of Glass Kit
IS9006 Forensic Chemistry of Unknown Substances Kit
IS9007 Forensic Chemistry of Hair Analysis Kit
IS9008 Forensic Chemistry of Blood Typing Kit
IS9009 Chemiluminescence in Blood Stain Detection Kit
IS9010 Forensic Chemistry of Drug Detection Kit
IS9011 Crime Scene Investigation Kit
IS9012 Forensic Chemistry of Dusting for Fingerprints Kit
IS9013 Forensic Chemistry: Chemical Detection of Fingerprints Kit
DOT Info:
Small quanitity exemption 173.4
THIS PACKAGE CONFORMS TO 49 CFR 173.4 for domestic highway or rail transport only
WARNING: This product can expose you to chemicals including Strong inorganic acid mists containing sulfuric acid, Lead and lead compounds, Phenolphthalein, Methanol/Methyl isobutyl ketone, Respirable crystalline silica, Acetyl Salicylic Acid/Aspirin and Carbon Black, which are known to the State of California to cause cancer and reproductive harm. For more information go to http://www.P65Warnings.ca.gov.
---
Contact Aldon - Innovating Science®