Quick Search
Innovating Science® -

Forensic Chemistry of Unknown Substances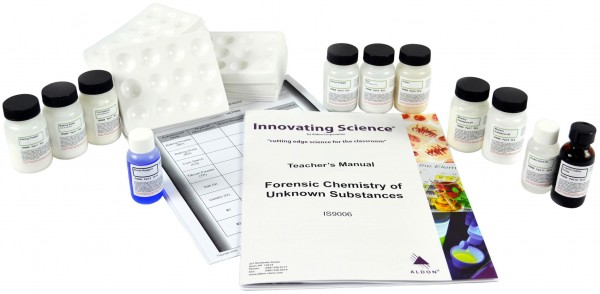 Product # IS9006
Often times, when collecting evidence at a crime scene, investigators may recover substances they are unable to identify in the field. Along with evidence such as fingerprints, hair, fibers, etc., there may be traces of unknown chemicals or powders left behind by the perpetrator or perpetrators. Evidence of this nature is sent to the crime lab for identification. In this experiment, you will use your observation skills, senses, and chemical tests on a series of known substances as well as two unknown substances. You will then attempt to identify the mystery substances based on your observations and recorded data. Kit contains enough material for 15 groups. Teacher's Manual and Student Study Guide copymasters are included.
Aligned to the Next Generation Science Standards (NGSS)* Disciplinary Core Ideas:
PS1.A; PS1.B
Performance Expectations:
MS-PS1-2
Cross Cutting Concepts:
Patterns
Engineering Practices:
Analyzing and Interpreting Data
Kit Includes:
30 Reaction Plates
30g Baking Powder
30g Baking Soda
30g Corn Starch
30g Talcum Powder
30g Salt
30g Gelatin
30g Mystery Substance #1
30g Mystery Substance #2
30mL Biuret Reagent
30mL Dilute Lugol's Iodine
30mL Acetic Acid
DOT Info:
Small quantity exemption 173.4
THIS PACKAGE CONFORMS TO 49 CFR 173.4 for domestic highway or rail transport only
*"Next Generation Science Standards" is a registered trademark of Achieve. Neither Achieve nor the lead states and partners that developed the Next Generation Science Standards was involved in the production of, and does not endorse, this product.
WARNING: This product can expose you to chemicals including Respirable crystalline silica, which is known to the State of California to cause cancer. For more information go to http://www.P65Warnings.ca.gov.
Safety Data Sheet
---
Contact Aldon - Innovating Science®