Quick Search
Innovating Science® -

Chemiluminescence in Blood Stain Detection Forensic Kit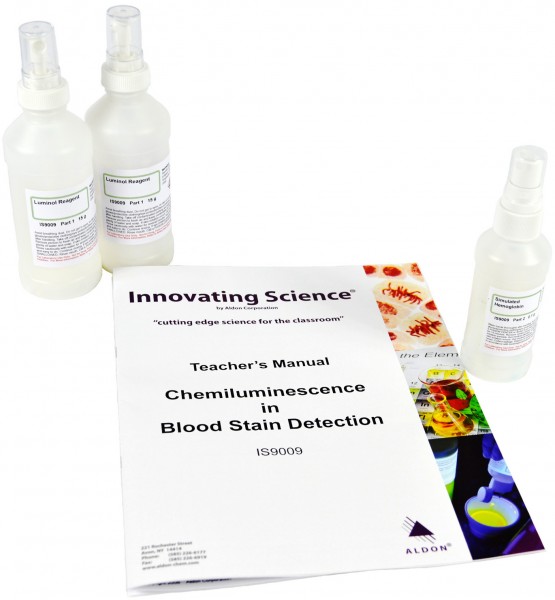 Product # IS9009
Crime scene investigators are called to the scene of a possible violent crime. They examine the scene for evidence, such as fingerprints, hair, fibers, etc. After collecting the evidence, they notice there is no visible blood. Someone takes out a spray bottle and begins to spray the area with a liquid. After the area is covered with spray, they turn out the lights. A strange, faint glow appears in certain areas of the scene. Learn how luminol is used in scenes like this everyday. The special luminol formulation does not require a separate hydrogen peroxide catalyst. Simply re-hydrate and use with the simulated blood hemoglobin to show your class. This activity includes an Instruction Manual with suggested activities. Kit contains enough material for several demonstrations.
Aligned to the Next Generation Science Standards (NGSS)* Disciplinary Core Ideas:
PS1.A; PS1.B
Performance Expectations:
MS-PS1-2
Cross Cutting Concepts:
Patterns
Engineering Practices:
Analyzing and Interpreting Data
Kit Includes:
2 X15g Luminol Reagent Powder
1 X 0.1g Simulated Blood Hemoglobin
DOT Info:
Non-regulated
*"Next Generation Science Standards" is a registered trademark of Achieve. Neither Achieve nor the lead states and partners that developed the Next Generation Science Standards was involved in the production of, and does not endorse, this product.
Safety Data Sheet
---
Contact Aldon - Innovating Science®