Quick Search
Innovating Science® -

AP® Chemistry Lab #9: Analyzing the Components of Pain Relievers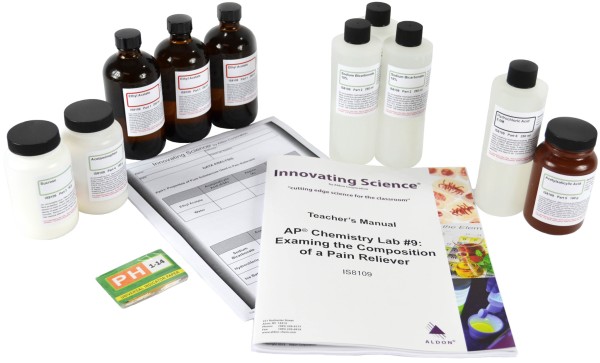 Product # IS8109
Students will test the solubility of each possible component of a commercially available pain reliever in an organic solvent, ethyl acetate, and in a basic aqueous solution of sodium bicarbonate. These results will help the student create a procedure that will be used to separate components in a mixture and determine percent composition. The activity contains enough materials for 15 groups of students as well as a Teacher's Guide and Student Study Guide Copymasters. Meets Big Idea 3, Investigation 9, Primary Learning Objective 3.10.
Kit Includes:
750mL Ethyl Acetate
750mL Sodium Bicarbonate, 10%
250mL 6.0M Hydrochloric Acid
50g Sucrose
100g Acetaminophen
100g Acetylsalicylic Acid
1 pkg pH Strips 1-14 Pkg/100
Materials needed but not included:
Beakers, 100mL
Erlenmeyer Flask, 125mL
Filter Paper
Funnels
Graduated Cylinders
Hot Water Bath
Ice Bath
Separatory Funnels
Lab Stand with Ring Clamps
Test Tubes
Laboratory Spatulas
Distilled or Deionized Water
DOT Info:
UN1173, Ethyl acetate, 3, II, Ltd Qty
UN1789, Hydrochloric acid, 8, II, Ltd Qty
WARNING: This product can expose you to chemicals including Acetyl Salicylic Acid/Aspirin, which is known to the State of California to cause reproductive harm. For more information go to http://www.P65Warnings.ca.gov.
Safety Data Sheet
---
Contact Aldon - Innovating Science®