Quick Search
Innovating Science® -

AP® Chemistry Lab #3: What Makes Water Hard?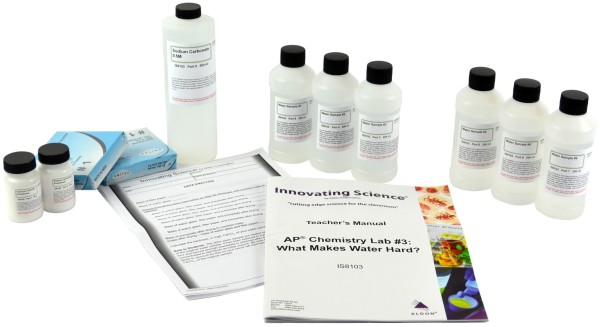 Product # IS8103
Students will investigate the suitability of gravimetric analysis for determining the amount of water hardness in the form of calcium carbonate found in various water samples. The activity contains enough materials for 15 groups of students as well as a Teacher's Guide and Student Study Guide Copymasters. Meets Big Idea 1, Investigation 3, Primary Learning Objective 1.19.
Kit Includes:
40g Calcium Chloride
50g Sodium Carbonate
500mL Sodium Carbonate 0.5M
2 Filter Paper, pk/100
200mL Water Sample #1 (0.75M Calcium Chloride)
200mL Water Sample #2 (0.2M Calcium Chloride)
200mL Water Sample #3 (0.5M Calcium Chloride)
200mL Water Sample #4 (0.1M Calcium Chloride)
200mL Water Sample #5 (0.05M Calcium Chloride)
200mL Water Sample #6 (0.9M Calcium Chloride)
Materials needed but not supplied:
250mL Beakers
100mL Beakers
100mL Graduated Cylinders
Watch Glasses
Distilled or Deionized Water
Wash Bottles
Analytical Balance(s) (0.001g resolution or better)
Drying Oven
Vacuum filtration setups (aspirators or small vacuum pumps, 250mL Buchner funnels, 250mL Erlenmeyer flasks w/sidearm, ring stands w/ laboratory clamps, rubber tubing, glass tubing, #6 two-hole rubber stoppers, #6 Buchner funnel rubber stoppers)
DOT Info:
Non-regulated
Safety Data Sheet
---
Contact Aldon - Innovating Science®