Quick Search
Innovating Science® -

AP® Biology Investigation #7: Cell Division: Mitosis and Meiosis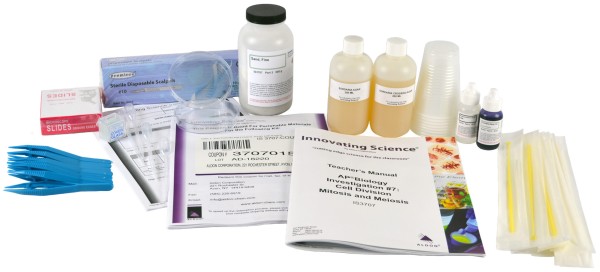 Product # IS3707
Students will study the cellular steps involved in DNA replication and cell division in both mitosis and meiosis. This investigation will allow students to examine the stages of mitosis in the preparation of plant root tips. Crossing over in meiosis will also be investigated through the use of Sordaria cultures. Meets AP Science Practices 1, 5, 6, and 7, and Big Idea 3. Materials provided for 32 students in eight lab groups.
Kit Includes:
10 Disposable scalpels, sterile
20 Petri Dishes, Sterile
200mL Sordaria Agar
200mL Sordaria Mating Agar
8 Disposable Inoculating Loops, Sterile
8 Forceps
1 pkg Microscope Slides
1 pkg Coverslips
16 Plastic Pipettes
8 Plastic Cups
500g Sand
30mL Hydrochloric Acid, 6.0M
30mL Toluidine Blue, 1%
Coupon redeemable for:
Sordaria, wild type
Sordaria, tan mutant
Materials Needed but not Supplied:
Microscopes
Distilled Water
Microwave or Hot Waterbath
Garlic Cloves
Optional:
Lectin
pH Buffers
NaCl
Plant Hormones (e.g. indole acetic acid, kinetin)
Herbicides
Any other materials students may think might affect the rate of mitosis in garlic root tips
DOT Info:
Small quantity exemption 173.4
THIS PACKAGE CONFORMS TO 49 CFR 173.4 for domestic highway or rail transport only
WARNING: This product can expose you to chemicals including Respirable crystalline silica, which are known to the State of California to cause cancer. For more information go to http://www.P65Warnings.ca.gov.
Safety Data Sheet
---
Contact Aldon - Innovating Science®